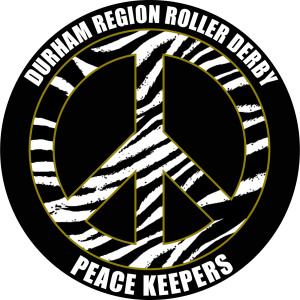 Derby bouts feature a lot of action between the skaters. On top of this there is a very strict and complex ruleset that must be enforced throughout the bout, covering everything from contact penalties, safety equipment, point scoring rules, pack definition and "engagement zone" rules… the list goes on, and on, and on… And the totally awesome people enforcing these rules are the officiating crew, what we call the "Peacekeepers."
(pics coming soon)
Whether skating or non-skating, each official plays a vital role in making sure the bout runs smoothly, safe, and in compliance with the ruleset.
Skating referees follow and define the pack, declare the lead jammer, count the points collected by jammers, and call penalties when they see them.
Non-skating officials, or NSOs, track penalties and scores reported by the referees, start and time each jam, operate the scoreboard, and manage the penalty box.
The derby officials community at large is a fun-loving, supportive group, always willing to share their knowledge and experience with newcomers.
Interested in joining us? Of course you are! Send an email to zebras@drrd.ca. No experience necessary!