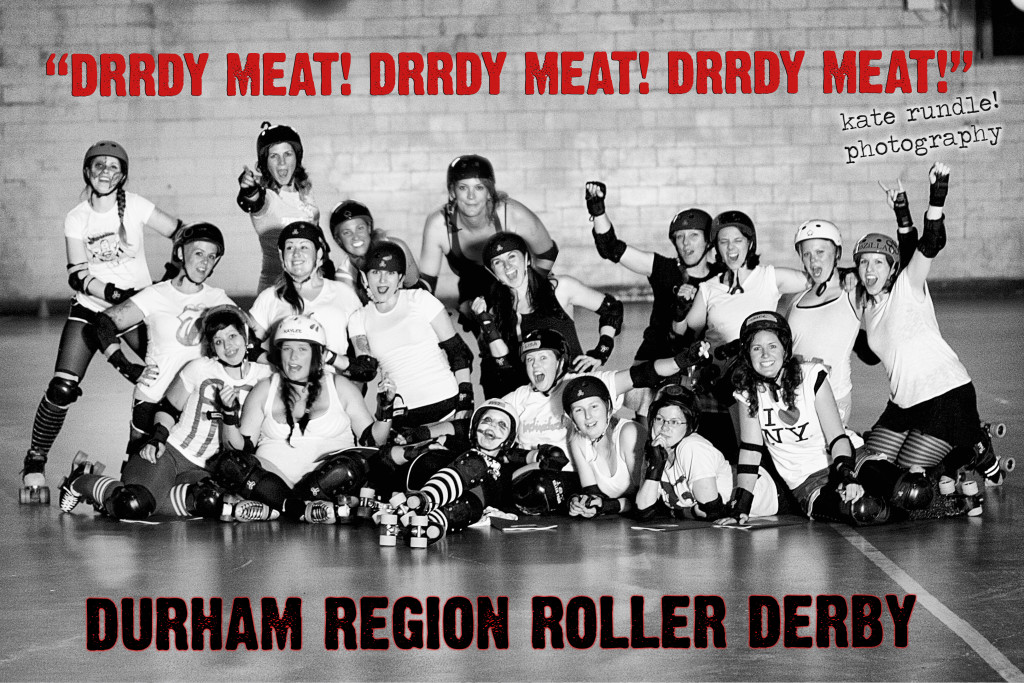 Roller Derby is a fast-paced, full-contact sport that draws great crowds and fosters a sense of family and community in its players. Interested in skating in the Durham Region Roller Derby League?
Step one would be to complete our 10 week Fresh Meat training camp. Offered several times a year, this training camp is designed for women of all skill levels, even if you haven't put on your roller skates in years…or ever! With determination and hard work, you can be an excellent skater regardless of your prior experience or skill level.
After completion of the Fresh Meat Training camp you will be required to pass a minimum skills test. Passing the test will advance you to the DRRD'y Farmers Team.  Didn't pass your skills test or want to hone your skills…no problem! Simply enrol in the next Fresh Meat Camp! 
All skaters require the following equipment prior to starting the Fresh Meat program:
Knee pads
Elbow pads
Wrist guards
Quad roller skates
Helmet
Mouth guard
Some of this equipment can be borrowed until you purchase your own.
If you're interested in joining DRRD as a skater, email to freshmeat@drrd.ca
Officials and NSOs
We're looking for a few good men & women to keep us in line.  Referees and NSOs (non skating officials) are a huge part of Roller Derby. They keep points, track penalties, and eject those players who get carried away during the heat of battle.
Think you are up to the challenge?  If you're interested in joining DRRD as a referee or non-skating official, email zebras@drrd.ca
Volunteers

Behind any successful derby league is a hardworking staff of dedicated individuals.
Our home bouts are a major undertaking that wouldn't be possible if it weren't for the great volunteers who generously donate their time and talent.
If you're interested in volunteering your time or skills to DRRD, email volunteers@drrd.ca
Sponsors
Help support the advancement of women in sports by contributing to one of the fastest growing sports in the world, Roller Derby. DRRD is an entirely volunteer and skater run organization and your involvement is a great way to promote your company and keeps us kicking butt on the track!  We offer a sponsorship package to fit every budget.
To request a sponsorship package, email sponsorship@drrd.ca